WELCOME!
Shalom, thank you for stopping by. Welcome to Central London's fastest growing young Jewish community. Young is a feeling and therefore relative. Situated in leafy St. John's Wood –  contact us at Hello@SaatchiShul.org 
Our administrative office is now with St. John's Wood Synagogue for all enquires please email Hayley secretary@shulinthewood.com or call 02072863838
---
Rosh Hashanah & Yom Kippur 2019
Non-members registration click here  – Members do not need to register
Service schedule for High Holy Days click here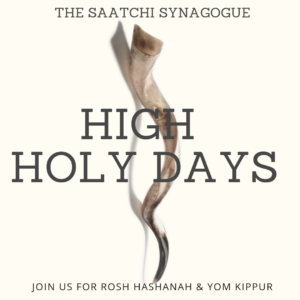 Mimi Dwek Hebrew School 2019-2020  – details here
---
ONGOING AT SAATCHI SYNAGOGUE
SERVICES
Our services are held in the Beit Midrash of St John's Wood Synagogue and are followed by delicious and friendly Kiddush. We also welcome periodic guest speakers, and host a monthly Birthday Kiddush.
FRIDAY EVENING: 
Ruach Kabbalat Shabbat: Winter 17:30 | Summer 18:30 – Private home.
SHABBAT MORNING:
Study session: 9:15 | Service: 9:30 | Torah Reading: 10:15
CHAGIM:
Service: 10:00
CLASSES
HEBREW SCHOOL
Tuesday's after school, for Reception through year 7.
WEEKLY CLASSES
We have a number of different classes throughout the year. Please contact us directly to view our current classes:
Email: hello@saatchishul.org
As per new guidelines – We have updated our Privacy Policy here.